Trail Building
Ecoscapes specializes in layout, design, and construction of multi-use trails for residential and commercial clients. No matter the reason, we can create a trail you will love and one that will last! Being from an area with so many beautiful trails, we take pride in upholding that beauty with each trail we create! Contact us now to receive a quote by filling out the form or calling us (828-329-7147).
Types of Trails We Create
Below is a list of trails we can create but are not limited to. If you have a trail idea for a different use other than listed below, then please reach out because we can still help you!
Hiking Trails (Footpath)
Mountain Biking Trails
Equestrian Trails
Motorized Vehicle Trails (Dirt Bike, ATV, Side-by-Side, etc)
Multi-Use Trails
Cross-Country Skiing Trails
Urban Trails
Rail Trails
Fire Roads
And anything in between!
Features We Can Include
Below are a few of the features we have included in previous trails. We are not limited to these features, so please feel free to request a unique feature during our consultation.
Boardwalks
Bridges
Stone Paths
Paved Paths
Jumps
Berms
Banked Corners
Rollers
Ladder Bridges
And much more!
How we work with clients
Proper trail design and layout is the most important step to creating a sustainable trail. First, we speak with you about the type of trail you envisioned. Once we know the use, we can decide what the layout will be between a linear-trail system or a looped-trail system. After these factors have been agreed upon, we will walk the property with the client and start deciding the location you would like to place the trail.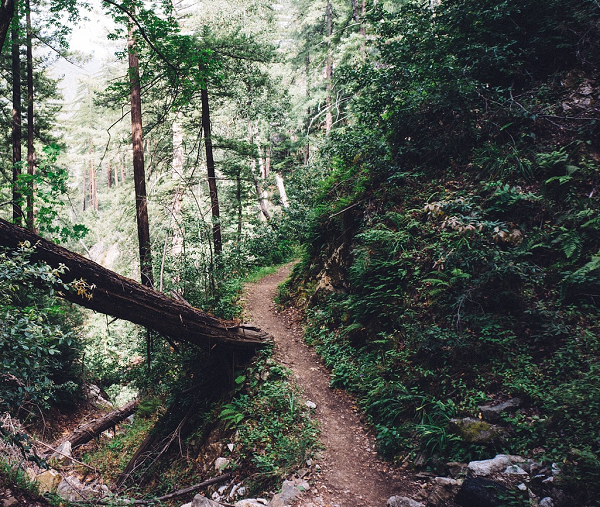 When starting the layout and design process, it is important to keep the natural landscape in mind to ensure functionality, user enjoyment, and eliminate future trail maintenance needs. This is one thing we will discuss during our walk of the property. Ecoscapes has the experience to find the perfect natural paths to create a trail that works perfectly for its intended use. Once we have the trail marked and you agree upon its layout, we can start with the construction.
The construction stage really varies depending on the use and location. We use several building machines, like a mini excavator, to create the trails for our clients. All of the construction we complete keeps long-term sustainability in mind.
Who we have worked with
We work with both residential and commercial entities. We have work with private landowners, HOA managers, property managers, non-profits, and special interest groups. So, we are willing to work with anyone and we would love to add you to that list!
Learn more about Ecoscapes
Ecoscapes is a trail building contractor that has been doing business in the Brevard, Hendersonville, and surrounding area for over the past decade. We pride ourselves on our unique trail designs and always put the customer first. So much so that we created the Ecoscapes' Guarantee for all of our projects. Don't just trust anyone with your trail, reach out to us today to see how we can create a trail use for any purpose, that surpasses all your expectations. Click here to learn more about Ecoscapes.
Areas We Serve
| | | |
| --- | --- | --- |
| Brevard, NC | Lake Toxaway, NC | Hendersonville, NC |
| Asheville, NC | Mills River, NC | Candler, NC |
| Etowah, NC | Penrose, NC | Pisgah Forest, NC |
| Arden, NC | Cedar Mountain, NC | And the surrounding areas! |
Your area not located above? Don't worry! We services all of the surrounding areas in Western North Carolina, so contact us for any of your needs!